It is a New Year and time for a "Fresh Start"! You won't want to miss the West Virginia Academy of Nutrition and Dietetics annual meeting, packed full of nationally and world renowned speakers!! Ethan Bergman, AND President, Jessica Setnick, Walt Stansinski, Doug Paddon-Jones, Mike Rousell, Dr. Henry Driscoll, Shelly Marie Redman, Lynn Spalding and more will be our guest speakers! WOW! We will also hear from our local experts, Linda St. Clair, Kelli Williams, Emilee Pack, John Cummings, Allie Farley and more!
Special thanks to the following for their assistance in providing speakers!
Registration is open online by clicking here. Meals reservation will be taken until March 11. Registration for single sessions is also available here.
You can also read more about our program and speakers in our Meeting Booklet or by reviewing the Agenda. Posted presentations are also available here.
To send your registration by mail, print the registration form and address to:
Mary Kathryn Gould
9 Prospect Drive
Huntington, WV 25701
Make check payable to: West Virginia Academy of Nutrition and Dietetics
The conference hotel is located in downtown Huntington: Holiday Inn Hotel &Suites, Huntington-Civic Arena 800 3rd Ave. Huntington, WV 304 523 8880 http://www.hihuntingtonhotel.com/. We have rooms blocked under WVA (West Virginia Academy of Nutrition and Dietetics) They offer hotel shuttle to/from the airport but not to Marshall University.
Meeting Location: Marshall University, Don Morris Room -March 20-21. The Campus is located at One John Marshall Drive Huntington, WV 25755
The WVAND board will meet on March 19 in the John Spotts room in the Marshall University Memorial Student Union. Campus Map: The meeting location is #30 on the map. Parking is located across from the Memorial Student Center, across 5th avenue, in the Parking garage, #43 on the map. There will be a charge to park. (.50/hr.- Cash Only! Attendant on site)
Local Dining: http://www.wvvisit.org/eat_link.php?task=SRCH&locid=2&pgid=2
Join us for the Present & Future Social, March 20th, 2013, 5:30 p.m. ~ 9:00 p.m. at Huntington's Kitchen (911 3rd Ave. Huntington, WV) See More
Exhibitor Contact: Anna Davis, Anna.Davis@healthsouth.com. If you are an exhibitor, please see our Exhibitor Letter and/or print a copy of the Exhibitor Registration.
For Questions email: Sharon Maynard, Sharon.maynard@drink-milk.com, Program Chair
---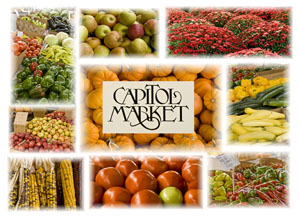 Five Reasons to Visit Your Local Farmers' Market:
You are supporting local farmers
Fresh produce (with lots of variety from different vendors)
Less energy is used in getting the produce to the market
It's a good opportunity to socialize with others in the community
It's cheaper!
Be sure to check out some of our favorite Recipes