Marshall University On-site Internship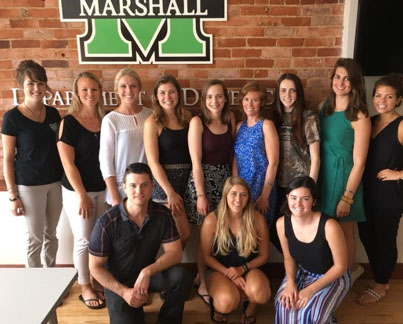 2016-17 Marshall University (on-site) Interns
http://www.marshall.edu/dietetics/dietetic-internship-2/
Marshall University's Dietetic Internship is a 10-month program that incorporates supervised practice with graduate education. The internship concentration is school nutrition education and grantsmanship, which centers on the Department's Nutrition Education Program (NEP). The NEP is grant funded and enables interns to provide nutrition education to kindergarten, first, and second grade students in qualifying schools. In addition to working with our NEP grant, interns will complete clinical rotations in the acute care, long term care, and out-patient settings, as well as participate in foodservice management and community-based rotations. Throughout the internship, interns will complete 21 hours of graduate credit and have the option of completing a Master of Science degree in Dietetics. To be awarded the Master's degree, an intern must complete an additional 15 credit hours for a total of 36 hours.
For more information, Contact:
Mary Kathryn Gould, EdD, RD, LD
gouldm@marshall.edu.